For those interested in all things North Korea, you're probably aware of the very interesting new 'vlog' style content that they've been producing since early 2020 on the YouTube Channel Echo of Truth.
This channel was originally created in 2017 but really kicked off earlier this year with host Un A and her more 'human' insight into North Korea in vlog-style videos.
Yep, that's right. Is this North Korea's first vlogger?
Recently, we saw the disappearance of Echo of Truth. It seems the channel was taken down (By YouTube?) for reasons that we will discuss shortly. But even more interestingly, it is making a comeback – uploading the same content once again under the same name Echo of Truth.
How long will Un A last this time?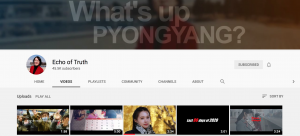 North Korea & Social Media
North Korea, previously stuck in the past in terms of social media use and promotion of both internal and external propaganda, has started to realise the benefits of more modern approaches in order to promote itself.
In the Kim Il Sung and Kim Jong Il eras, propaganda was confined only to shortwave radio broadcasts and publishing monthly magazines in various foreign languages with limited content, such as domestic news about recent accomplishments in construction and agriculture.
The first shift in North Korea's movement to modern mainstream propaganda was the appearance of the now-obsolete channel Uriminzokkiri in July 2010, followed by @Coldnoodlefan in 2017, which, since August 2020 has been suspended.
Then in walked in Un A…
An Echo of Truth in North Korea's Propaganda?
Echo of Truth has been active on YouTube since 2017, but in 2020 it took a new, bizarre turn. Previously hosting a range of videos that one can interpret as traditional North Korean propaganda, your typical parades, information on new progress etc, Un A, the "new face of North Korean propaganda" described as "just like any other amusement park vlogger" sets out to show a more human side of North Korea.
She shows a different side of North Korea. A human side. People going shopping, at amusement parks, in the countryside… And she does all of this in a very modern style 'vlog' format, presenting to the camera in great English with a friendly smile.
Despite this attempt at showing off North Korea's human side, there are still underlying notes of 'traditional propaganda'. Modern themes humanising the North Koreans are presented alongside traditional themes.
For example, in one of Un A's videos at the theme park. One minute she's having fun on the rides, and the next she starts to talk about how her leaders visited the place, how many times they went on the rides etc…
Some defectors suggesting that it is all entirely staged. However, Echo of Truth presents an insight into North Korea that the outside world has never before seen in a modern manner, with video productions utilising a much more advanced style of editing. This is notable since previous video editing from North Korean platforms has been very… 90s. At best.
They're obviously trying to get down with the latest trends and hashtags now. And it's working. Since, before the abolishment of the channel (will get to that) Un A had thousands of followers and videos received thousands of likes – in sharp contrast to the previous old style of videos.
These such videos are indispensable to most people who otherwise never get to visit North Korea, since it shows a side to the country most people have never seen before, with foreign media having limited access to the country and what there is being predominantly focused on the nuclear stand off, military parades, and prison camps etc.
Fake News?!
One aspect of these new propaganda videos to further explore is the idea of de-bunking myths and fake news. Un A mentions 'fake news' in one of her videos surrounding COVID-19 and panic buying and addresses these issues head-on – something that North Korea has previously never done. We see Un A address this issue. "I think the fake news is the last thing we need in such a fierce battle time with Covid-19", in respect to 'fake news' about supermarket shortages etc. It's interesting to explore these videos further for a useful insight into both the countries policy and how it is representing itself to the outside world.

These types of channels, this type of soft external propaganda, can, however, be dangerous. They are presented in such a human way that consumers may absorb it as  fact. Completely fine, real, normal. When, in reality, there are more sides to the complex and intricate story that is the DPRK.
YouTube's abolishing of the channel could, for this reason, have been predicted. You could say it was only a matter of time. The only thing stopping YouTube from removing it any sooner was the risk of limiting freedom of speech rights.
It has not been specifically announced why YouTube removed it, however, we can speculate that it was due to the promulgation of propaganda aimed at a foreign audience and done so in a subtle, enticing way. YouTube would run the risk of being seen as supporting a regime that most see as a pariah state.
Who is Un A?
It's important to note that whilst Un A tries to show a more human side to North Korea and represent it in a more "real" way, Un A is not your average North Korean at all. This is shown simply in the fact that she is making videos. And indeed making videos for YouTube and foreign social media.
The average North Korean does not have internet access and most will never have heard of YouTube. It is clear that Un A and her team, with access to YouTube and other social media channels, represent a very small elite population of North Korea.
This fact alone marks such content as propaganda. But most people will not be aware that what is being represented as a 'regular' North Korean couldn't really be further from it.
Echo of Truth Returns
No sooner than the Echo of Truth channel was taken down, has it now mysteriously reappeared! Who, what, where, why, and how… All the questions, but none of the answers.
Actually, we have some answers. As NKNews points out, this account is linked with the Sogwang Media Corporation. This also has ties with Cold Noodle Fan. As to why, YouTube has often deleted North Korean related accounts and NK News speculate that this could be due to YouTube worried about sanctions. We can also speculate that the removal of Echo of Truth was due to the promulgation of propaganda aimed at a foreign audience and done so in a subtle, enticing way. YouTube would thus run the risk of being seen as supporting a regime that most see as a pariah state.
What's even MORE interesting about the "New" Echo of Truth is that all of the old pre-Un A videos have not been re-uploaded. But, all of the new blog style Un A videos have been re-uploaded. The channel clearly wants a set appearance.
So only time can tell if we are to see more productions by Un A, what kind of productions we will get. And if they'll manage to stick it out on YouTube for a longer period of time than a few months!